Purchasing Policy - Please Read Carefully
Included in our price:
Our horses (weanlings, yearlings & older) recieve halter training by natural horsemanship methods. They will also recieve consistent training as they mature until they are purchased. They will be leading nicely with good ground manners. They will have gentle & willing dispositions & a good respect for their handler. We believe that giving our horses the proper start with basic training prepares them to become brave, successful & willing individuals thoughout their lifetime.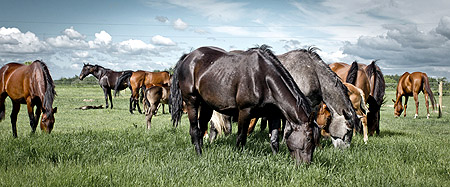 Regular Worming & Vaccinations: We provide 1 worming for our foals after they are weaned & often 2 wormings prior to delivery if time permits. We do not vaccinate our foals until yearling age at which time their vaccinations will be included in their yearling price. All yearlings & older horses recieve vaccinations for West Nile, E & W Encephmylitis & Tetanus.
Halter & Lead Rope
Registration Papers
Our prices are listed for each horse & will remain the same price; regardless if you live in Canada or USA. Example: If our horse is listed for $2500.00 &  if you live in Canada - your price is $2500.00 - Canadian funds. If you live in the USA - your price will be $2500.00 - American funds.
Not Included in our price:
Please be advised that the following costs are estimates. The actual costs may vary up or down.
Transfer of ownership with Canadian Sport Horse Association for registered horses: $70.00 estimate.
Valid coggins test: $75.00 - estimate.

Health & Export Papers completed for export to USA: $50.00 - estimate

Brokerage Fees Paid to enter USA: Will Vary With Border crossing & Age of Horse
Transportation: Foals - We are happy to help arrange transport for you with a reliable horse hauler or we will deliver the weanlings ourselves for a very reasonable fee whenever possible. Delivery fees will vary.
Deposit Policy

We require 50% of purchase price for deposit.
All deposits are non-refundable.
When we receive the deposit for a specific horse, we will consider this horse sold.  All horses are considered available until the deposit has been received.  We accept Certified bank cheques, wire transfers, bank transfers or payment made at Western Union. No Personal Cheques will be accepted!
Please contact us for the required information at 1-204-838-2328.

Deposit Refund

Please let me assure any new clients that have not previously purchased a horse from Ravine Ranch Sport Horses; we set very high standards for our horses. If we are not completely satisfied with any horse's conformation, temperament, health or over-all appearance or if we feel it is a poor match for the discipline required: we refuse the sale & not allow this horse to be purchased. Our goal is to find dedicated trainers & riders that will provide a promising future for each of our horses. We strive to find the perfect match for every client.

1. If we are not satisfied with any horse's development, temperament or conformation at any time prior to delivery; we will cancel sale & refund 100% of the deposit.
2. If the horse is injured or incurs any sickness or problems prior to delivery, we will cancel sale & refund 100% of the deposit.
3. If a client changes their mind & no longer wishes to purchase their horse, no refund of deposit will be possible.

Deposit Transfers

We agree to transfer any deposits made by our clients to another horse of their choice if requested in a timely manner - must be made by Sept. 1.

Purchase Policy

We require final payment (50%) made by Certified bank cheque, wire transfer, bank transfer or Western Union at least 3 weeks prior to delivery. If final payment - remaining 50 % of purchase price is not received 3 weeks prior to delivery, the client will forfeit their deposit & their chosen horse will become available to other clients. Final payment is necessary in this time frame to allow us to properly prepare our young horses for travel, co-ordinate their transport & insure that all coggins & export papers are completed. Please contact us at 204-838-2328 for the required information to wire transfer, bank transfer or send by Western Union.
NO PERSONAL CHEQUES WILL BE ACCEPTED.

Delivery Information

Due to the extended periods of time away from home required to deliver our horses in person, we have found it increasingly difficult to always personally transport them. We wish we could but we just can't always personally insure their safety on-route. Fortunately, we have knowledge & previous experience with several excellent professional horse haulers. We are  happy to help arrange affordable & reliable delivery for our clients. Our horse haulers are extremely careful and we have very high regard for their care while on-route. Prices for delivery will usually range "for weanlings" from $600.00-800.00 per weanling, depending on the number of our weanlings being delivered in one general direction & the traveling distances. For yearlings & older horses, the price usually ranges from $1000.00-1200.00, again depending on the stall size required & the distance for delivery. If a client is able to meet their horse on-route, this will often reduce the delivery cost. When your horse leaves our farm, we are no longer responsible for him or her. If you require insurance for your horse while on-route, it is the responsibility of each client to purchase their own insurance. We insist on very specific care & high standards for our horses while traveling & our horses will only be permitted to travel with haulers that have gained our utmost trust & respect. Please be advised, we are not able to control the price for delivery so each year is different with each horse hauler.