Welcome To Ravine Ranch Sport Horses
Quality Hanoverian Canadian Sport Horses For Sale
Hunter, Jumper, Dressage and Eventing Prospects
Ravine Ranch Sport Horses - Doug & Deb King & Sons
We are a dedicated breeding farm & offer an impressive selection of Registered Canadian Sport Horses; carrying the bloodlines of our Hanoverian stallions; Dol Savirt, Gringo, Samual and Giacomo. These beautiful Hanoverian stallions were chosen for their excellent conformation, strong potential & wonderful dispositions. We also offer several top-quality Registered Canadian Sport horses sired by Dr. Love - Hanoverian/TB stallion, Voodo Kiss & Storm Ranger- both exceptional Thoroughbred stallions. Most of our stallions & nearly 100 % of our mares have been inspected & approved with Canadian Sport Horse Assoc.
Cornelia at Brandon Summer Fair, at her first ever show. She was Reserve Champion in the  2'3" & 2'6" Hunter Division, shown by Dorsch Farms
Our cross-breeding program is unique; one in which we have tremendous confidence and pride. Our horses are well suited for hunter, jumper, dressage, foxhunting, eventing and combined driving. Our horses are proving themselves in and out of the show ring as successful competitors with sensible minds, as trusted mounts and life-long companions.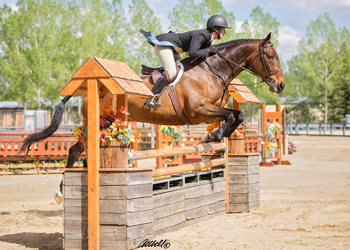 Glade at her first show ever at Brandon Summer Fair!! A Hunter Champion in the Making!!! Shown by Dorsch Farms
Due to many years of selective breeding, we possess an elite group of HanoverianX and ThoroughbredX mares within our breeding program. They exemplify our very best for the excellent conformation and athletic talent they pass on to their foals. They have gentle & willing dispositions which makes their offspring so very easy to train. Currently, we have several young Hanoveran prospects in training plus a wide selection of Hanoverian and Canadian Sport Horse yearlings available for sale.
Ravine Ranch is striving to produce horses with correct conformation, athletic ability, height and beauty along with the intelligent temperament needed to take them to the TOP!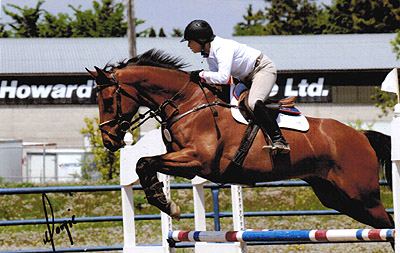 Geo doing Jumper 1.1 meter at Brandon Summer Fair. Shown by Dorsch Farms
We would like to hear from you. If you have any questions or comments; please contact us anytime at horses@ravineranch.com.