Testimonials
-
Cornelia
Cornelia is doing well! We had lots of placings in the 1.10 and 1.15m at Beach, Derby, and Heart. Cornelia was fantastic and we ended up winning the 1.10 gamblers choice at Beach as well!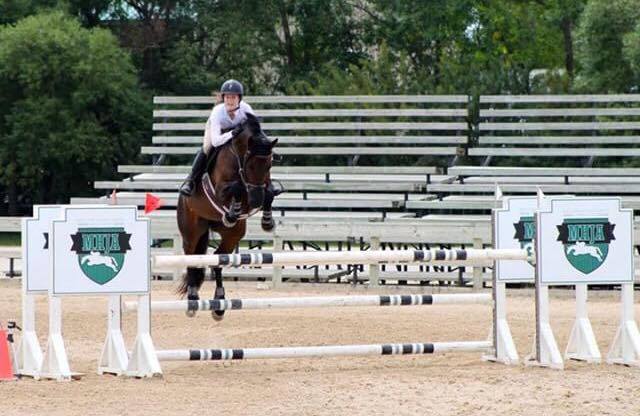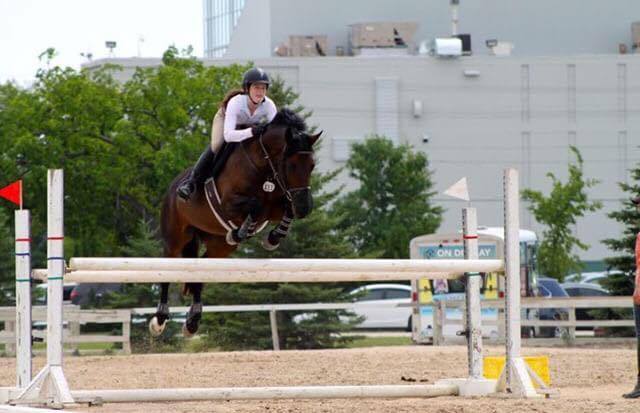 -
Given
Owned & ridden by Dana Codding. He won Adult Amateur Hunter Champion - Rocky Mountain Show Jumping. Sire is Gringo & Dam is Something To Talk About.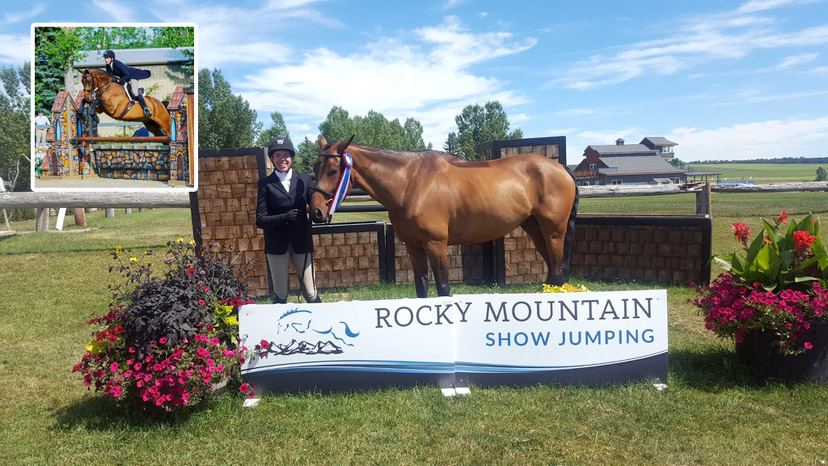 -
Dol's Ellegance
Hello, My name is Mikell Vince, my daughter Madeline and I are the owners of Dol's Ellegance (Ellie) out of Dol Savirt and Ravine Rebecca in 2003. We live in Helena, Mt and bought her in May of 2013. I can't begin to tell you what a fantastic horse she is! You sold her to Deb Murray in September 2003 who in turn at some point sold her to Kendra Pizzini who is also in Helena. We met Ellie in early 2012 when she was leased to a lady at our current barn and immediately fell in love with her beauty and personality. We began leasing her in October 2012 and bought her as noted above. Ellie and my daughter who is now 16 have such a wonderful relationship, it is envied by many. They are competing at Intro C and Training Level 1 in dressage and 3'3 and 3'6 in the Hunter ring. Ellie can easily clear 3'9 and they will hopefully get there this summer. We have watched your website over the years and noticed that Ellie's sire has passed away. I hope that he had many years of happiness being a papa. Ellie is a gorgeous gray that ended up at 16.1. Ellie has a strong personality and she loves to give Madeline a hard time. My favorite sight is Madeleine's smile when Ellie gives a little buck fart when she doesn't want to do something! Ellie has become very sensitive to dust requiring us to steam her hay. Other than the cough secondary to respiratory irritants she has been absolutely sound and healthy. She is currently barefoot and her feet are in great shape. I am attaching a picture of Madeline and Ellie at a Dressage show in Bozeman from last July. As you can see she is beautiful and quite a looker! Thank you for breeding such a great companion for us! Madeline and Ellie are destined for great things!
Mikell Vince
-
Storm Front
Hi there, I am emailing you just to thank you for the colts you produce and to rave about the one I am learning with. Hi birthday is May 15, 2013 and his registered name is Storm Front. He was Sired by Storm Ranger and the Dam was G Whiz.This colt is more than what you could have ever described as being sired by Storm Ranger. His temperament is unbelievable and we are now at a barn who has broken and breed horses (although not sport horses, they know their horses pretty well) and she is floored at Storm Front (I call him Sullivan). I bought Sulli in May of his 2nd birthday and never being on a horse and being terrified of them, we grew together. He taught me as much as I could have ever taught him from our ground work for over a year. He has probably had about 12 rides on him to saddle break (sorry if I use the wrong terminology as I am more green than he is), and I have maybe been on him 20 times. He went to a small little dressage show at our previous barn after having a handful of rides and never spooked over anything and it was extremely windy. He has yet to really spook and is just an amazing horse and is so smart, trusting, beautiful and graceful. I honestly could go on and on about him. I just wanted to thank you and give you an update on one of your colts. Thank you again!!! He's a diamond in the rough!! If you ever have another from that line, I will definitely be inquiring.
Lauren
-
Sahara - 2008 mare by Samual
Hello Doug and Deb!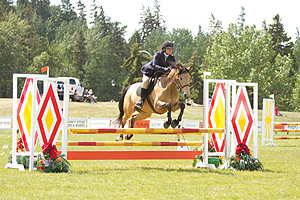 I apologize for not keeping in touch with you over the last couple of years. I just want to give you a quick update on what is happening with Sahara. We started jumping her as a 4 year old, and did our first shows when she was 5. She was an absolute angel, and took to showing right away. She is always very relaxed at shows, and loves all the attention that she gets. We started her off in the hunters, and she did very well for a young horse.
In the spring of the next year, she unfortunately had an injury out in the pasture. She was given the summer off to recover so we didn't do any more damage. In the fall we got her back into jumping shape and started over the small stuff again in the winter. We basically went back to square one. However, as a 7 year old, we went from schooling 2'0" to 3'3"-3'6" in about 8 months. We started our show season last year doing 2'6" in the hunter ring and ended up at 3'0" in the jumper. She gained a lot of confidence as well! If there is one thing I can say about this mare, is that she is incredibly brave.
This year, we started our first show at 3'3". We're still schooling 3'6" at home but I'm sure we will be moving up very soon. I hope to be showing at 3'6" by the end of the year, and schooling higher. She definitely has the ability. I couldn't ask for a better horse. Thank you so much for the opportunity you've given me by selling her to me. I can't believe how incredibly lucky I am to have her. She and I get along very well, she's my partner in crime, and the best teammate I could hope for. Attached is a picture from our first show this year, at 1.0 m.
Thank you again for everything. I look forward to sending you more pictures of us in the future.
Sincerely, Kimberley Davis & Sahara
-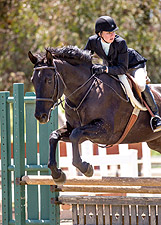 Flannigan - Dol Savirt x Pasu Booger (Jet)
The Best Horse Ever!!
Thought you might enjoy this pic of Flannigan's winning round in 3' Green Hunters.
He loves to jump!
Many thanks
Bonnie Grimes
-
Speak To Me - Son of a Gun x Dolce Daralyn
Pictured here as a 2 yr old. She is my dream horse & shows outstanding talent!! Thank you.
Growing tall and filling out. She is a good 16.2 now.
Love this filly.
Reg Corkum
-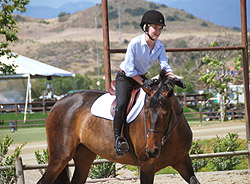 Grandora - Gringo x Grace
Thank you so much for helping us...
Here are some photos....
We love her!!
Karen
-
Fancy That - Sired by Gringo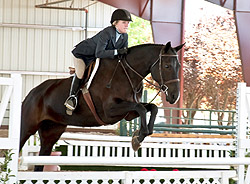 Just thought you would like to see a picture of one of your horses.
We bought Rosie last November, and this is her first A show. My daughter Emily is riding her in Children's Hunters.
She is really a sweetheart; never stops and she is a good jumper too!
Diane Odion
-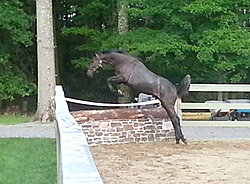 Lumiere du Soleil - Dolce Georgia x Son of a Gun
Pictured here playing as a 2 yr old.
My princess is jumping the wall!
Thanks,
Sandra
-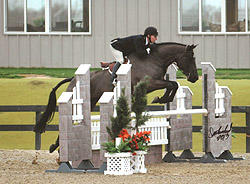 Good Vibrations - Gringo x Sophie
2013 Champion Canadian-Bred Hunter, Royal Winter Fair - Toronto, Ont.
He is adored in the barn & a constant champion in the show ring!!
Thank You.
-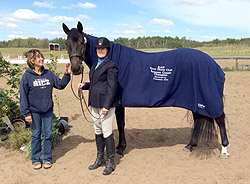 Gail - Sudden Grace x Gringo
2014 Summer Classic Champion.
Very Happy!!
-
Best Kept Secret

(formerly known as Houdini
Voodo Kiss x Lorraine - Registered - CSH)
Hello there! It has been quite some time since my last contact with you but I think of you all the time and pretty religiously keep up with investigating your new crops of foals (especially any of my boy's brothers and sisters). This is Ashley Cristelli (part of the Rutgers Jersey girl crop from way back in 2006). I purchased Houdini from you (a Smooch colt out of Lorraine).
Well, I started feeling very nostalgic as he just turned 8 years old this month! I can't believe it has been so long, but he's still with me in sunny Florida =) I don't know how often you hear updates about your past foals but I just wanted to let you know that purchasing him was the best decision I ever made. He is an absolute joy! He is the sweetest, most easy going horse I've ever met and he has a heart of gold. And he is a fantastic jumper! He packs me around 1.25m courses without even batting an eyelash! He also tolerates and forgives my many mistakes.
I show him under the name Best Kept Secret, because he was, for quite some time ( it was a couple years until I told my father that I had actually purchased a baby). But everyone affectionately just knows him as 'Dini'. We show the A and AA rated circuits at HITS and Wellington when my schedule permits (since I keep quite busy these days having my own veterinary practice).
I just thought you might like to hear about him and see some pictures. You are also more than welcome to use them if you would like to have Smooch testimonial from a very happy horse owner =) Well, I won't take any more of your time up I just thought it would be nice to get in touch again.
Hope all is well! Can't wait to see this year's crop of foals!
Ashley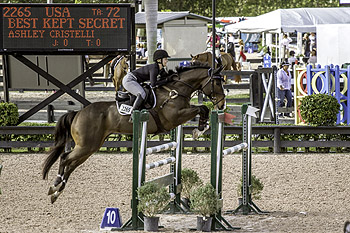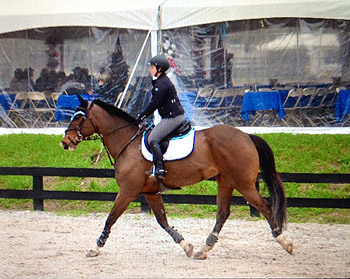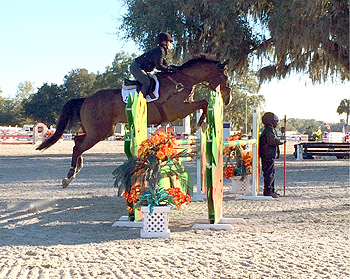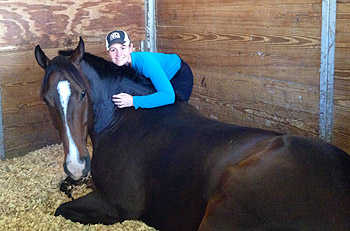 -
Skye
Well... The 2011 show season has officially come to a close and I couldn't possibly be more pleased with the amazing success Skye and I have had this past show season.
Along with the many individual Champion and Reserve Champion titles we won throughout the season, I'm thrilled to tell you that Skye was awarded with 2011 Starter Hunter Division Champion, and also Canadian Sport Horse Association Hi Point Hunter/Jumper at the Manitoba Hunter Jumper Association annual awards banquet held this past Saturday.
If someone would have told me a year ago all that Skye and I would accomplish in 2011, being an amateur rider on a 4 year old horse, I would have never believed it. I think it speaks volumes for the amazing horses that you continue to produce.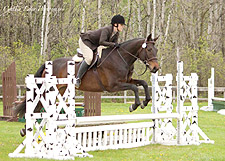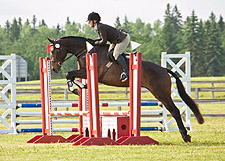 In total we placed in 51 out of the 60 classes we started this season. Hi-lights of our 2011 Season include: (A season to remember) :-)
Hi-Point Naeric 4 year old - Royal Manitoba Winter Fair

Hi-Point 4 year old Canadian Sport Horse - Royal Manitoba Winter Fair

Champion Starter Hunter Division - Victoria Day Horse Show

Reserve Champion Open 2'3" Hunter Division - Victoria Day Horse Show

Reserve Champion Starter Hunter Division - Summer Smiles Horse Show

Reserve Champion Open 2'3" Hunter Division - Summer Smiles Horse Show
Champion Starter Hunter Division - Beach Party Horse Show

Reserve Champion Open 2'3" Hunter Division - Beach Party Horse Show

Reserve Champion Starter Hunter Division - Heart Of The Continent Horse Show

(Tie for) Champion Evergreen Open Hunter Division - Heart Of The Continent Horse Show
Reserve Champion 0.85 Junior/Amateur Jumper Division - Heart Of The Continent Horse Show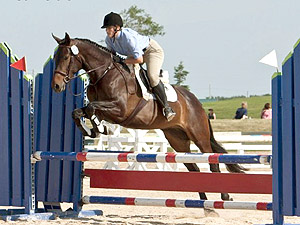 I've attached a couple of my favorite pictures for you as well as a link to a short you-tube video clip my girlfriend made for me from the Heart of The Continent. I'm planning to attend the 2012 Royal Manitoba Winter Fair in hopes of competing in the 5 year old Division, so hopefully we will see you there!
Video:   http://www.youtube.com/user/cynthialeigh79
Best Regards, Cynthia
-
Enchanted
by Samual out of Dolly Will Dance
Pictured showing at Kelowna.
-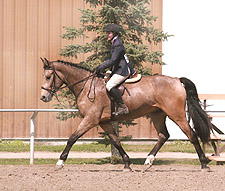 SandMan
Samual & Madonna - Born 2006
It's been 7 months since we've owned Sandman!! So far he's the greatest horse ever and everybody loves him!! Literally! I'm so happy with how he's coming along. He learns really fast and he's very brave. In July we did a dressage show and did the walk and trot tests. He ended up being the champion in the little division and his highest mark was 70%. Monique's dressage coach loves him as well. Later in August we did hunters in the Amberlea Summer Heat and we were reserve champions in the 2'6 division!! We also did the musical hunter to the song Mr. Sandman and won!!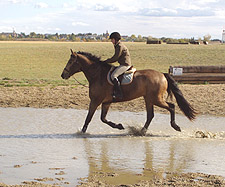 The other weekend we went to Beaumont cross country course where we took Sandman to an open field and he was absolutely great. He wasn't afraid to jump anything, had a few looks at some of the things, but otherwise really good. He also decided that it was safe enough to trot/canter through the small dyke with the water in it! Just recently we were in the Amberlea Harvest Show in which we were the walk/trot dressage champions with our highest mark being 75% which is pretty good! Now it's time to wind down for the winter and just work on some flat for now until next year. He's a fabulous horse and we are very pleased with him.
-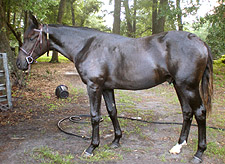 Guinesss
Gringo & Connie - Born 2008
He is absolutely wonderful! He is now 15.2hh and 900lbs and growing. He still has the sweetest puppy dog personality. My daughter plays with him and he gets her wet playing with small buckets of water. In fact I'm sure he thinks he is a person. He comes to my back door every time we go in or outside and gets all kinds of snacks. He has done everything I ever asked him to do willingly and he is by far the most intelligent horse I have ever worked with in my 17 years of being a horse lover! I teach him something once and he remembers weeks later with no practice in between. I have had tack on him, walked him over bridges and into water, taken him as an observer to a couple local horse shows and anything else I can think of to do. I am regularly amazed. I have ponied him out on the trails with my old gelding and he has been so willing and brave no matter what we encounter, even alongside the busy road we take on the way to the greenway trails. Guiness has adjusted well as he does with all challenges. He spends his time with us at the back of my house (in the field) during the day and at night he hangs with the neighbor's horses at the front of the property. I have every confidence that Guiness will continue to more than meet my expectations! I can not thank you enough for such a wonderful animal. I see that you bred Connie back to Gringo and got a filly this year. The combination of those two is flawless and I am sure Genie will be every bit as wonderful as Guiness. I will stay in touch. I wish you the best in your continued breeding of these perfect sport horses! Nicole
-
Song
Samual & Great Hope - Born 2007
Song aka Savannah is doing great, growing and learning. She has a great personality, quite a ham actually. I have taken her to a couple clinics this summer, we worked all day on ground training and the trainer commented on how smart she is, with a little bit of sensitivity. She is just past 15 hands, not growing fast but consistent, I think she be 16 hands. She is a beauty & I am very happy with her!! I still look on your website at all the youngsters, and they are beautiful. Thanks, Patty
-
Solomon
Samual & Geneveve - Born 2007

Three years ago I had the idea that I might like to bring along a young horse and was looking at some of the NAERIC ranches from Western Canada when I came across Ravine Ranch Sporthorses. I kept returning to their site because the quality of their horses caught my eye. I also love the Hanoverian breed and when I saw their stallion Samual I knew I found my future foal!
I contacted Deb King and was so impressed with all the help and information she provided me. I also liked that these horses were bred for temperament and conformation, two conditions that were very important in my choosing the right horse. My foal, Salasapass Freedom, was the first one born April 15, 2007 and it was love at first sight when I saw him! He is 3/4 Hanoverian, 1/4 Percheron out of Samual & Geneveve. Around the barn he is called Solomon. I have such a connection with this horse that I can't say enough good things about him! He is very intelligent and has loads of personality! I plan on backing him next year but have been focusing on a lot of ground work from the moment he arrived.
He only gets about 10-15 minutes of training 3-4 times a week and it's paying off with such a well-mannered young horse. He is kept outdoors with our other horse 24/7.
He is now 2 1/2 and he will be starting his dressage training with my daughter in his 4th year. I have no doubt that he will excel at that and make it all the way to Grand Prix in the Future! This has been THE best experience and feel so blessed to have him in my life! I highly recommend the horses from Ravine Ranch! This was a match made in heaven!
Joanne Duston, Nova Scotia
-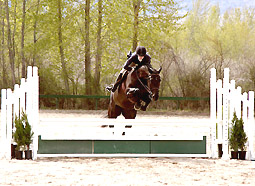 Shadow Dancer
4 yr. old filly sired by Samual out of Dolly Will Dance.
She loves people, both big and little & is extremely gentle with everyone. She loves attention. Shadow Dancer is beautiful & she has the most amazing personality. We love her dearly. She has won many ribbons in the hunter classes and also in the model classes at such an early age. Keep going with your excellent breeding program.
Izzie is her barn name & she is such a delight. At the Alberta Hunter Horse Show, Izzie won 2007 Champion as a 3 yr. old filly in the 3, 4 & 5 year old Futurity & Reserve Champion in the same class for 2008. She was also Champion 2'6" hunter Champion at Andersons schooling show & placed 1st in several 3' hunter classes in summer/08.
Thanks. Anne
-
Soleil's First Horse Show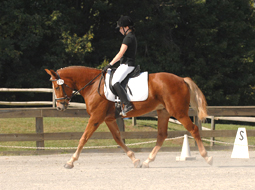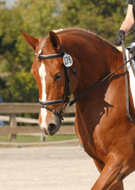 Soleil is 1/2 TB (Far Flung)- 1/2 Belgian (Hazel). She is 6 yrs old. These photos are taken at the first horse show of her life!!! She placed First in Dressage Training Level 1 - First in Dressage Training Level 2 & placed 5th in Dressage Training Level 4. I am SOOO proud of her! I can not even begin to tell you what a wonderful mare she is. When the opportunity came to purchase Soleil - I couldn't pass it up. While we are both still in training, she progresses leaps & bounds every day. She does not have a mean bone in her body. She is level headed & consistent. I could go on & on about her & her outstanding trainability & her quality. Thanks so much. Stephanie....
-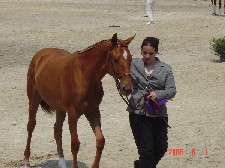 We came upon your site quite by accident. When we purchased, we were not expecting these amazing horses for such a reasonable price. Your horses have outstanding conformation, disposition, intelligence & athleticism...
Disaronna received only 4 lessons prior to Devon plus it was her first time away from home..You can't imagine how thrilled we are...she was judged by Rodney Jenkins!!.....up against 17 of the best Dutch Warmblood & Hanoverian yearlings in the country... most of them have been showing for months...at one of the best shows in the country - AA rated- & we win a ribbon...Whoo Hoo!!!
We look forward to our next purchase from Ravine Ranch & recommend your sport horse prospects to everyone. Thanks so much - Lynn & Gretchn
-
We love every foal that we have purchased from Ravine Ranch Sport Horses.

I didn't think that I would ever be able to own a quality Warmblood but I was able to purchase Benjamin- (1/2 Hann) from Doug & Deb in 2002. I am extremely please with him and I can't wait to event him!
I purchased several other foals from them that have become excellent sport horses. Deb and Doug are great to do business with. You get 100% honesty!! If they feel a horse won't work for you; they will let you know and help you find the one that will please you. They want everyone to be happy (including the horse) when all is done. I would recommend to everyone looking for a quality sport horse to purchase their future horse from the Kings - you won't be disappointed! ...Amy
-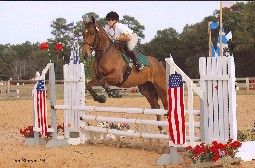 I cannot say enough about how great Muley Graves has turned out to be & how easy he has been since the day he arrived. Everything I have ever asked him to do; he has tried with all his heart. It is very hard to face the fact that I must part with him due to school. I wish that I could just hang onto him forever but he loves jumping too much & he is far too young & talented for me to keep him in my backyard. His new owners love him tremendously, they are dedicated foxhunters & they will never part with him. He is perfect for them! Thanks for everything. I look forward to purchasing my next eventing horse from your breeding farm. Thanks Laura....
-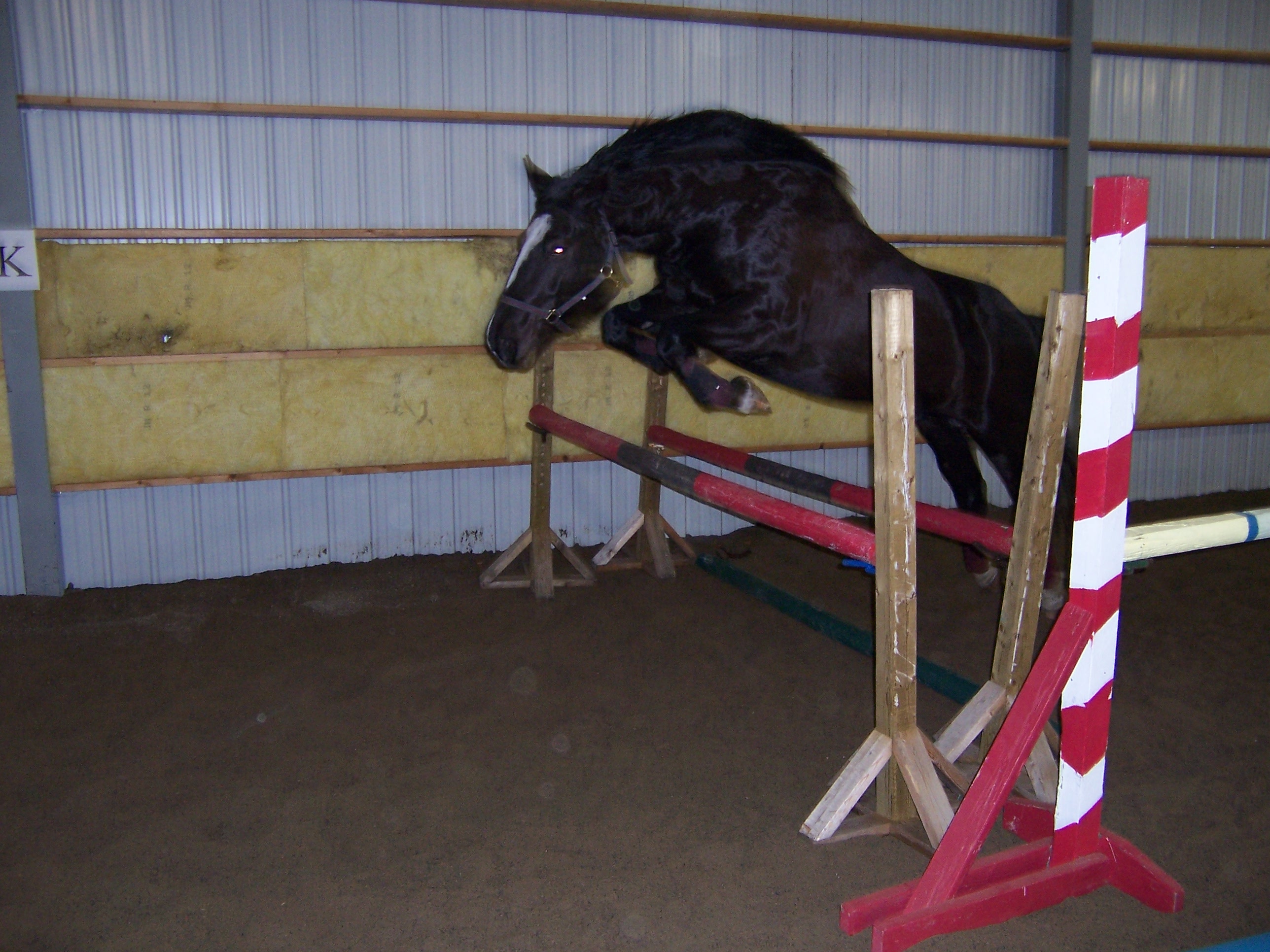 I have big hopes for him. I absolutely LOVE him and I think you breed amazing horses!
Thank you so much.. ..Alison
-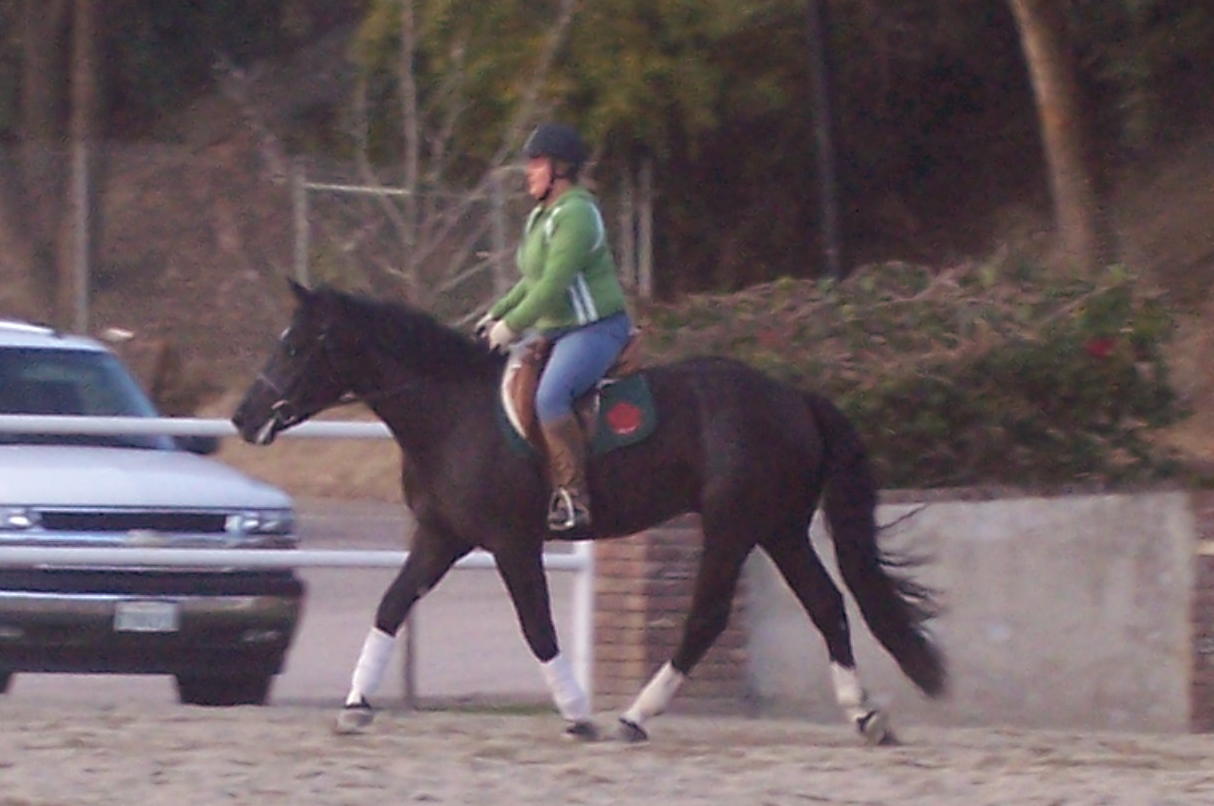 I had the pleasure of purchasing a foal from Ravine Ranch Sport Horses. I live in southern California - I am about 3000 miles from the Kings. Deb sent me a fabulous video tape to look at the foals & patiently answered all of my questions. She even took more pictures of the colt that I was interested in. They made the whole process so simple. They even arranged transport and "immigration". It was TOO easy. The Ravine Ranch horses have the nicest personalities. They are the most easy going, intelligent, loyal and beautiful horses. It has been a pleasure to own & work with Bootz.
I look forward to our long prosperous partnership and friendship over the years to come. And yes, I would buy another one in a heartbeat!! ....Cindy
-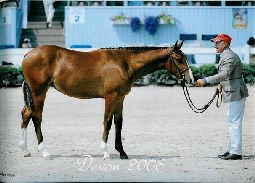 We decided to purchase a foal from Ravine Ranch Sport Horses; after seeing other youngsters that our friends had purchased. I was so impressed with their lovely attitudes, correct conformation & extreme athletic abilities. We show our youngsters in-hand at A & AA shows & later on; in the performance ring. So we desperately require these attributes. During her yearling show season, Good For Me - purchased as a foal from Ravine Ranch Sport Horses finished 3rd for yearlings in Pennsylvania. Quite an accomplishment!! Her sire is Gringo - Reg. Hanoverian & her dam is Dove - 3/8 TB-1/8 Clyde. Deb & Doug King produce quality sport horses that will excel in the hunter or jumper ring plus several are extremely suitable for dressage. They also make it their personal goal to find the right horse for you; able to fulfill your wants & needs..... I would definitely buy from them again... Stacy.
-
Sashay – 2 yr. old Hanoverian filly by Samual (Reg. Hanoverian) x Nina (Reg. Canadian Sport Horse). Sashay was purchased by Janene Gerling from Doug & Deb King - Ravine Ranch Sport Horses as a weanling filly. At Waredaca in Laytonsville, MD; Sashay placed 1st in her 2 yr. old mare division plus she placed 1st above all other 2 yr. olds competing in the Future Eventing Horse series with the highest score of 76.2. The judges awarded Sashay an 8 for her conformation & 7.8 for her walk & trot. She is a beautiful bay Hanoverian filly; with exceptional temperament & style. Sashay will compete in the Championships for Future Eventing Horses at Morven Park, VA in Oct. She is a joy to handle & show!!! At this stage of her development, I feel that Sashay shows potential for any horse sport. She will start her career in the dressage & hunter ring. She will be exposed to walking with the hounds and in her fourth or fifth year, Sashay will begin competing in horse trials. Her natural curiosity and seemingly fearless attitude makes her an ideal candidate for any discipline. We look forward to purchasing our next champion from Ravine Ranch Sport Horses.
-
Amanda from Florida says……From the moment I first contacted Doug and Deb King about purchasing one of their foals, I could tell that they truly and genuinely care about finding the best fit for their horses. They seem to know so much about them and what they would be most happy doing. I came to the King's in February to look for a nice Eventing prospect for myself and what I bought was way more than I could have bargained for. The quality of their horses is remarkable - I honestly never thought that I would be able to afford a horse of Glory's breeding, but it was possible.
Glory (now Bella) is the most easy going and laid back 2 year old I have ever worked with - everyone who meets her is stunned to know that she is so young and so well behaved. Her ability to understand as well as perform what I am asking of her is indescribable. She will definitely be an all-around horse for me (Dressage, Hunters, Jumpers, Eventing).
Thank you Doug and Deb King for such a wonderful horse!
-
I cannot say enough about the great horses at Ravine Ranch and especially the great people that own it, the King family. Five years ago, I started looking for a warmblood foal to replace my then 16 yr old TB gelding. Living in NJ and being only 15 yrs old I knew it would be a impossible task to find and afford one where I live so I started to look on the internet and found myself on the Ravine web site. Needless to say I fell in love with all of their foals. With the help of Deb and Doug we were able to narrow down the search to a black TB/Perch X colt named Ringo. Deb & Doug were so helpful tying to find a horse that would fit exactly what I was looking for. Ringo became Jack when he arrived here in NJ. The disposition, intelligence and athleticism all wrapped up in a 4 month old foal was amazing. During the winter of his yearling year, Jack had a terrible accident in our paddock that nearly cost him his life. He fell on a patch of ice and slid under our wooden fence and peeled the skin of his front leg from the knee to the pastern, exposing his pastern joint. My heart cried in fear that they could not save him. But my Jack took the surgery of countless stitches to put back as much skin as possible, the weeks of a full cast to demobilize his leg for healing and joint flushes of his knee twice daily for one week due to a splinter piercing his joint and 6 months confined in a 12x12 stall without a complaint. My mother who has raised TB's for racing was just amazed at my "Jack". Five years later, Jack is just under 17H and is still black as the ace of spades with no evidence of his accident, 100% sound. Jack attended his first show this past August at the Sussex County Horse Show rated AAA hunter/jumper/western show. His first class was a gelding halter class "battle of the breeds" where he competed against all types of horses and he came home with a second place. I was so happy I started to cry. As I left the ring I had person after person coming up to me asking if he was a Hanoverian, Trakehner, Oldenburg and I was happy to tell them he is a TB/Perch X purchased from Ravine Ranch Sport Horses in Manitoba, Canada. I want to thank Doug, Deb and her family for the opportunity of owning my absolute dream horse, a horse of a lifetime, my "Jack". We have recently purchased 2 more foals from Doug & Deb & I can't wait for them to arrive. Thank you!!!!!
Alex Van Beek Hardwick, NJ